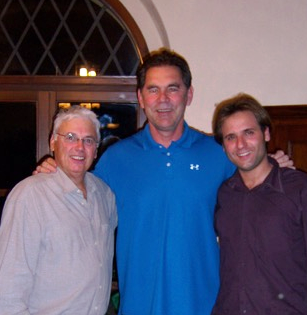 An unforgettable experience
November 2007, All Saints and All Souls. I took a drive all the way up to Tuscany to spend a few days at the Country House Terre di Nano managed by my nephew
Giorgio near Montepulciano. My wife and I arrived in the late afternoon, and while sitting near the big fireplace waiting for the delicious dinner Giorgio was cooking, my eyes went down on the planning to read a name, "Bochy". It sounded familiar, but couldn't catch up with it so I asked Giorgio.
"He's American"" he answered. "Big guy, huge, if he was a baseball player he might have hit a lot of home runs". Giorgio also played some baseball when he was younger with his uncle being his coach!
I tried to know more about the host, but had no success. We played cards drinking some good wine produced by the Country House and then hit the pillow. But yet, that name continued to run through my mind all night long.
I got up quite early in the morning and even before breakfast, I insisted with Giorgio for more information and if we could check his IDs. Maybe that guy is from California. Maybe his name is Bruce.
"Uncle!" yelled Giorgio". Please, don't go too far! I host many American people from California and you really think to know his name? You're one of a kind." Right after we went to the office. It's hard to describe his phrase when he went to read: Bruce Bochy, San Diego, Calilfornia. "How in the wild world did you know him?" he said.
I told him to google his name and again his eyes went wide open when he saw Bochy's round face wearing a baseball cap and under titled "San Francisco Giants Manager".
"What do we do now?" He yelled once more. "We gotta take advantage of this".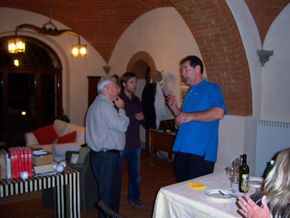 I was in the right place at the right time. We kept on reading to get more information about his career and then we drove to Arezzo, where I have some baseball friends and took back home a few baseballs for the autographs.
In the late afternoon we dressed up in tiger gears and waited in the parking lot for Mrs and Mr Bochy to be back from their daily tour. At 6:00pm they drove in and Giorgio stepped up:
"Hello Sir, it's my pleasure to meet Bruce Bochy manager of the San Francisco Giants, former player for the San Diego Padres and their manager in the 1998 World Series".
Mrs. and Mr. Bochy were stunned and it was clear they were so surprised someone came to recognize them.
"How did you get to know this?" Bruce asked with his deep baritone voice.
"Not me" replied Giorgio. "My uncle knows more."
I came out of the shades with my Tiger jacket and was even more surprised than ever when I told him:
"My pleasure to meet you, as you see I am a Tiger fan. I'm sorry you lost the World Series in 1984 to the Tigers as a player, and yet sorry you lost the 1998 World Series to the Yankees as a  manager. I wish you more luck in SanFran. My nephew thought you would hit more than 26 home runs in career as  big as you are."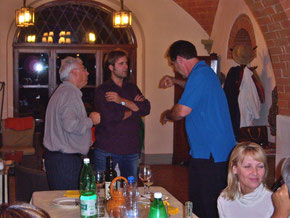 The Bochy's were shocked, incredulous of what they had just heard and all they could say was: Oh my God! Oh my God!
We stood a few minutes more talking in the parking lot and then we invited them inside.
Giorgio put on the table some good wine. Baseball was all we talked about. My wife later said I was so happy to look more like a Christmas tree full of brilliant lights.
After a while Bruce's friend walked in handling a bottle of wine he bought somewhere.  Joking I told him he could only drink wine produced by Terre di Nano and I did not have to repeat it.  Later on I came to know he was Dick Williams brother. Dick had managed and coached for the Boston Red Sox, Montreal Expos, Oakland A's and California Angels. Giorgio invited them all to have dinner with us and it was unforgettable.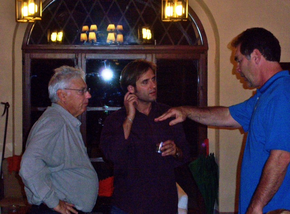 Of course I took my seat across Bochy. I was allowed to make all kinds of questions, but was also invited to make no suggestions.
We spent more and more time talking baseball and Bruce answered politely to all my questions and told me many stories that happen in the dugout and in the clubhouse we would never get to know.
At one point Williams told Bochy to hire me as first base coach for the Giants, Bruce replied he would think about it and I guess he is still thinking.
One of the hosts also made a short film while, asked by Bochy, I was showing how I taught batting to my players. Too bad it did not come out well.
A few hours later, Mrs. Bochy, tired for the traveling, politely asked to leave, but not before asking which were the main monuments to visit while in Rome. Of course I mentioned the Trevi Fountain and the legend of throwing in a coin and making a wish. I caught Bruce with his eyes open full of happiness and I questioned him right there:
"I bet your desire is to go back to the World Series and win the next time!"
He followed with a big laugh and said: "You're right Frank, but I promise if the opponents are the Tigers I will be nice to them!"
He also said it wouldn't be far from then he would be back in the World Series, the pitching staff was good, all he need were a few good bats.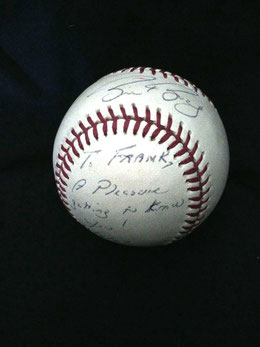 At 11:00pm we were ready for bed, Bruce picked up two baseballs for the autographs. Giorgio brought in his old first base glove and Bochy wrote: Giorgio, I need you on my team! Then picked up a baseball and wrote: To Frank, a pleasure getting to know you! Bruce Bochy 11/4/2007.
The next two mornings we had breakfast together, Bruce would call me over to his table knowing I wanted to talk baseball. When not driving around visiting,
I remember Bochy on the balcony smoking a cigar while we were down in the yard watching the beautiful panorama that only Tuscany can show.

Bruce would waive his hand and say: "I'm waiting for a call from Brian (Giant's GM), we're looking for some good bats, do you know anyone?"
Day came we had to leave and I went to Bruce to say good bye and thank him for his time and all the stories. He put his big heavy hand on my shoulder and said:
"Thanks to you Frank, it was very nice to meet someone who knew so much about me and so we could talk baseball. Keep on going, you have a good knowledge of the game!"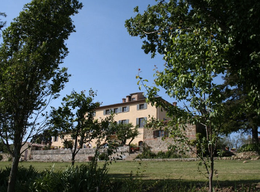 Weeks later Giorgio and Marco, the owner of the Country House, were in California to promote their products of wine and olive oil. One of the meetings was in San Diego and a host, well known in the area, introduced himself as Bruce.
"I had the pleasure to meet another Bruce from San Diego, just a few weeks ago" said Giorgio. "Bruce Bochy." Immediately Giorgio was surrounded by a curious crowd all wanting to know how he met with Bochy, the most famous Bruce in California, as he was told. Marco was astonished seeing his employee surrounded by so many people and couldn't understand why.
As for 2011 and 2013, also in 2012 I was in Detroit to watch my Tigers in the playoffs hoping to finally attend a World Series downtown  parade missing since 1984. The Tigers had to face the San Francisco Giants managed by Bruce Bochy. I wrote him I would be at the game but of course he was too busy with the team, so we couldn't meet.
All I can do is blame my friend Bruce for not sticking with his promise to be nice with my Tigers, who were swept by the Giants.
In spite of all, three days spent with Bruce Bochy will be forever an unforgettable memory and experience.
Ndr: This article was sent to me by Frankie on the 19th of October after the Giants reached the World Series. I wanted to bet on the final victory of San Francisco in the Fall Classic and I won it. It was worth the waiting to tell about this wonderful experience by our fantastic contributor Frankie Russo.
Paolo Castagnini
In the picture below Frankie shows his ball signed by Bruce Bochy